Remoska® sparked a love of cooking
Thanks to Remoska®, you have been dazzling others with your cooking skills for the past 60 years, even the fussiest members of the family.

Sometimes the kitchen can be fraught with turmoil
But many family dramas evaporate like steam over a pot when cooking together.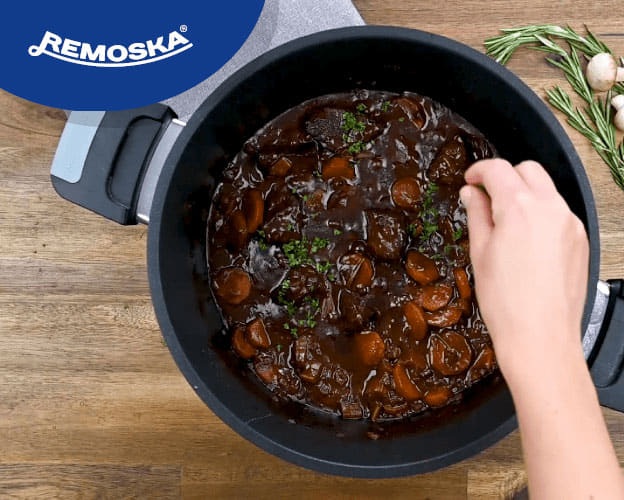 Simply perfect cooking
Gnocchi or dumplings, broth or Pho. They always taste great from a Remoska®.
And who washes the dishes?
Just wipe the Remoska® with a paper towel. It doesn't take up space in the dishwasher.
"For me, it's a classic which we cooked with at our old cottage. A Sunday kyselica roast with potatoes from one bowl still warms the cockles of our hearts. And when our granddaughter moved into a dormitory, she got a new Remoska® from us for her birthday so she could cook in the kitchen where they didn't have an oven."

Danuše Bažantová (78 years old)
"I travel a lot and I worked as a cook in several cafes and restaurants in Australia. When I get back home, I want to be as well-equipped for cooking as I've seen in professional kitchens. Minimalist and purposeful. That's why the Remoska® rules my kitchen - it has quality workmanship and you can cook great with it."

Alberto Cavallin (30 years old)
"I equipped my first kitchen with a Remoska®. The pans sit comfortably in my hand and thanks to the Remoska® Tria, I don't have to wash a bunch of dishes after cooking."

Hannah Laffancy (25 years old)